MICRO & PUB BREWERIES SPADONI - COMPLETE PLANTS TAILOR MADE FOR A HIGH QUALITY BEER
"Meccanica Spadoni" realizes complete equipments for the production and the treatment of your beer. With installations and micro-breweries Spadoni, you can personalize your beer production until to the aroma and the type of product that more satisfies your expectations. By adopting the "Spadoni" technology you quickly succeed in answering to the continuous increase of the demand of unalterable products and quality performances. Mainly, the installations Spadoni are composed of:
• Malt Mills and malt transport systems
• Complete Brew Houses from 2 to 100 hl with decoction /infusion system with 2 or more kettles, with heating system, electrical, by gas or steam.
• Tanks of fermentation from 3 to 200 hl
• Specific filters • Storage tanks
• Water chillers and heat exchangers
• Yeast propagation tank
• Dry-Hoppers.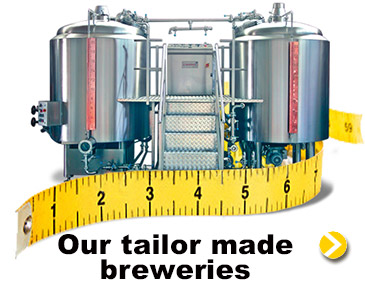 Besides, Meccanica Spadoni offers every possible technical solution on purposes studied and developed for customized applications or installations with the scope to fulfil international customers' requests.