Meccanica Spadoni Srl is one consolidated firm operating in the mechanical construction of filtering and cooling systems, industrial waste waters filters and, more recently, the company is also introduced in the Chemical and Pharmaceutical Industries.
The firm, established in 1951 as one of the first manufacturer of filters for the filtration of liquids has been constantly solicited from the development and the creativeness of a team of selected collaborators who allow the company to be attested with a large number of registered patents, some of them world-wide recognized.During the last years the company has got a strong and consolidated presence in the international market where his traditional production range is more known and, at the same time, new products are introduced in, thanks to the company's constant investments in the fields of new applications like the refrigeration of liquids and for the processing of upgrade quality of beer processing lines.The main "goal" of the firm is, without any doubt, the fulfillment of the client's request by offering the best technical solution which makes the client's processed products of his full expectations.A qualified management and updated machinery are a must in the company's philosophy to improve and evolve his own way of working with the final scope to develop new machinery and innovative products processing lines o single specific machine.
Meccanica Spadoni has built up his world-wide image throught a team of people who enables the firm to offer a high quality of his product, to honor the delivery time of the supplies, to fulfil the after sale service and, not last, to make very attractive the relationship between the range of the product's quality and the respective Price List : another favorable reason to approach our firm willing to fulfil your expectations and meet your requirements.
The SPADONI'S PEOPLE are world-wide operating and well represented by a qualified international sale net and are always ready to give our clients and the potential ones all their best qualified supports, independently of the matter you are operating in the Wine, Food, Chemical or Pharmaceutical Industry..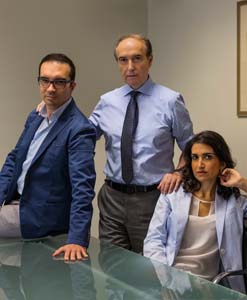 Spadoni family Simone, Sergio and Paola