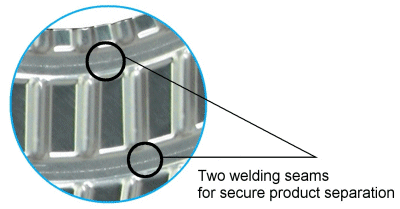 Actually developed SIGMADUAL series with pair-wise welded plate modules for thermal treatment of sophisticated media.
The product side is sealed by laser-weldings around the flow channels and with ring gaskets in the port areas.
The flow channels of the service side are sealed by elastomer gaskets, whereas the ports are laser-welded.
Increased operating safety by double welding for product separation.
The modular construction insures a high flexibility. Adjustments to changed operating parameters can easily performed by exchange or adding of SIGMADUAL modules.
The applications are in all industries, especially in the process and refrigeration industries.
Suitable for operating pressures up to 30 barg and temperatures from -30°C up to 200°C.
All current plate and gasket materials are available.