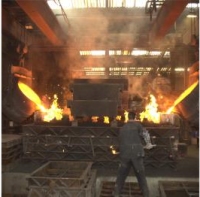 The important base materials for the production of the plate heat exchangers are manufactured in steel mills.
Without the appropriation of stainless steel coil strip for the production of the plate heat exchangers or plates of C-steel for the pressure frames, no manufacture of plate heat exchangers would be possible.
For the production of the coil strip in stainless steel alloy, such as e.g. 1.4404 or 1.4539 on the other hand, plate heat exchangers are employed in the production process for the most varied thermal applications.
Typical tasks for SIGMA plate heat exchanger are:
Cooling of ingot mold water
Cooling of continuous casting systems
Cooling of furnace water
Cooling of coking plant / stripping water
Cooling of rolling and drawing emulsions
Cooling of emulsions
Application example: Coil coating, emulsion cooling, gear and hydraulic oil cooling
In the case of a large steel mill in North Rhine Westphalia, more than 100 SIGMA plate heat exchangers have been successfully used for the above applications many years.
Application example: Cooling of coking plant waste water
SIGMA plate heat exchangers have been employed for many years for the cooling of stripping water in coking plants. Generally the alloys Alloy 276 or 2.4819 are employed, and sometimes also titanium and titanium Pd. Furthermore, special hard seals (C 4400) or soft-lip sealing (Viton) are employed for these applications. In spite of the high stress demands and the heavy-duty operation, the equipment has often been running for decades without causing problems.