Centec is a strong, privately held group of companies. With our own subsidiaries on all continents and a network of qualified sales and service partners, we are well established throughout the world and always close to our customers.
Our headquarters are located in Frankfurt-Maintal with excellent connection to Frankfurt International Airport. Development and engineering of our systems and sensors are done in Germany. For automation and assembly, switch cabinet construction and tank manufacturing we have ISO 9001 certified production plants in the Czech Republic. 90 percent of our products are exported to all parts of the world.
For more than 40 years we have been a reliable supplier and development partner of our customers in beverage, food, pharmaceutical, chemical and energy industries. As one of very few single-source suppliers of fully automated skid-mounted units and high precision measurement devices, we have a nearly unique product range. Centec plant concepts are individually tailored to the customer's requirements and the available space.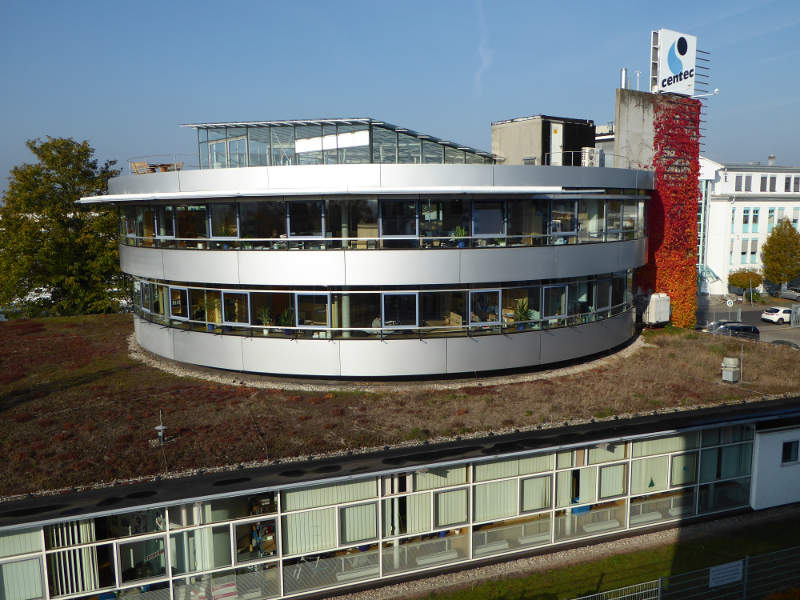 Using the most accurate Centec sensor technology for our process systems, we are able to provide solutions of superior reliability and precision. This is the secret of our success. Centec capabilities include engineering, manufacturing, delivery, installation and commissioning of turn-key plants – whether it is a complete cold block for a brewery or a multiple-stage pharmaceutical water treatment regime according to cGMP and FDA guidelines.
Milestones in the history of Centec:
2015      Establishment of a new subsidiary in China
2014      Start of own tank manufacturing in the Czech Republic
2013      Production plant in the Czech Republic expanded by two new assembly halls
2013      First greenfield manufacturing line for infusion solutions supplied
2012      Launch of laboratory density measurement (RHOTEC L)
2010      First complete brewery cold block supplied
2007      Launch of dealcoholization (DeAlcoTec)
2006      First turn-key WFI (Water for Injection) production facility supplied
2006      Launch of optical oxygen measurement (OXYTRANS)
2005      Launch of column water deaeration (DeGaS)
2003      Launch of high precision carbon dioxide measurement (CARBOTEC)
2002      First turn-key HPW (High Purity Water) production facility supplied
2001      Launch of nitrogenation (Nitrogenator)
2000      Start of own sensor manufacturing in Germany
1998      Launch of multi component mixing (Multimixer)
1997      Launch of flash pasteurization (FlashPasto)
1995      Launch of membrane water deaeration (DGS)
1994      Launch of carboblending (CarboBlender)
1993      Launch of yeast pitching (Yeast Pitch)
1993      Launch of wort aeration (WortAerator)
1991      Launch of carbonation (Carbonator)
1990      Start of process systems manufacturing using own measurement technology
1990      Dr. Robert Koukol enters the company as Managing Director
1976      Start of high precision concentration measurement (RHOTEC, SONATEC)
1976      Dr. Hubert Koukol establishes the company