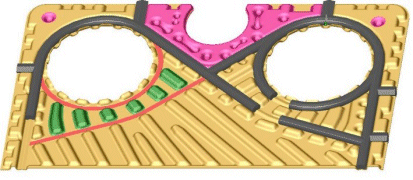 The innovation and development of new high quality products constantly improves the usability of our products for our customers.
Approximately 20% of our sales are achieved with products, which have been on the market for less than five years.
We combine the knowledge of our engineers, as well as our 130 years of experience, with the most recent developments made by Universities and Technical Institutes, with who we work in close contact.
We use 3D computer models and specialised programs (FEM – Finite Element Method) and/or flow-simulators to design and optimise our heat exchangers.
With our CAD/CAM system, we manufacture the very complex tools used in the production of the heat exchanger plates quickly and with precision in our own facilities.
In our own laboratories, we determine the thermodynamic and mechanical characteristics of our new developed prototypes in our fully automated test bay.
These short production paths make it possible for API Schmidt-Bretten not only to develop new products but also to produce specific plate heat exchangers optimised for a specific client application or new market demands.