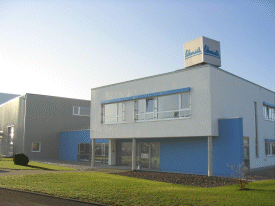 Founded in 1879 the name Schmidt has become synonymous with heat transfer technology. Over 130 years of experience and constant innovation has given us the expertise to become the leader in our field. At our company site in Bretten, Germany, on the verge of the Black Forest, we work with around 160 employees to fulfill our customer's needs.
In May 2003 we moved to our new site at the industrial estate of Bretten-Goelshausen.
In our new production shop we set new standards with cutting edge technology. For the production of the plates of our SIGMA plate heat exchangers, we installed an additional powerful and fully automated pressing system.
In that way we go on providing you with high quality products and enables us to enhance our range of products.
Our heat exchangers, evaporators and our thermal systems are used in practically all sectors of industry.
Our responsibility within the API Heat Transfer Group, Buffalo / USA lies in the product development and the production of plate heat exchangers.
Our strategic goal is to be the leader in heat exchange technology. Together with our American partners, through the exchange of information and through many years of experience with a variety of heat exchanger systems, we are developing in-depth knowledge of a wide range of heat exchanger product segments.
API Schmidt-Bretten, our suppliers and associates around the world, work in close contact with our customers to give them the best possible service.