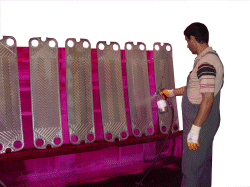 The SIGMA reconditioning service offers an efficient high quality inspection of your SIGMA plate heat exchanger or the heat exchangers plates.
Is wear given – expecially regarding the gaskets – we offer an in-depth cleaing and inspection of the heat exchanger plates.
The assembly of the cleaned plates with new original SIGMA gaskets can be done shortly.
Are some plates broken or otherwise out of order and the cannot be used any longer, new plates are available on short call.
All reconditioned plates are pressure tested on our test stand, before the get reassembled into the customers frame or delivered back to the customer.
Reconditioning of SIGMA Plate Heat Exchangers
High safty in operation while using orginal SIGMA spare parts (gasket, adhesive, heat exchanger plates)
Usage of orginal material qualities ensure more safety and longer lifetime in the production process
Low operational shut-down due to short lead time
Comprehensive examination and evaluation of the plates by our specialized staff
If necessary, an immediate replacement of defective heat exchanger plates is possible
Reassembling of the plate package according to the last mode of operation (subject to the plate diagram)
Reconditioning of the heat exchanger plates for capacity performance appropriate to primary start-up
Hydraulic test of all plates in the factory before recommissioning
On-site service is possible
Procedural advisory service by our specialized engineers