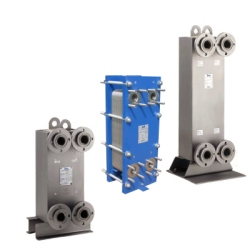 Suitable for liquids and gases outside of the range of gasketed 
plate heat exchangers especially in the chemical and pharmaceutical industries.
Pressure frame bolted with painted carbon steel or with all welded 
stainless steel.
Connection size DN 50 (2")
High performance heringbone corrugation pattern.
Flow rates up to 35 m³/h.
Max. 25 m² heat transfer area per unit.