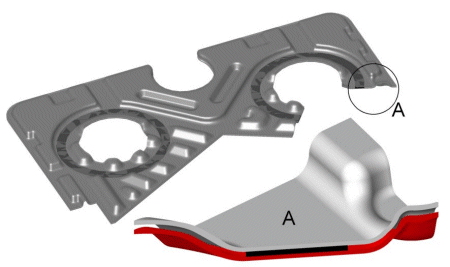 We designed the SIGMATWIN double-wall plate to achieve the specific demands for a heat exchanger plate as a safety plate.
Construction and functional concept
Instead of a single SIGMA plate we apply a SIGMATWIN plate pair, which has been moulded together and put into each other.
The sealing of the gap is realised with flat ring gaskets only in the section of the four holes.
This prevents a contamination of the two fluids / products which are engaged in the heat exchange process in the event of a leakage. A leakage escapes into the gap between the two plates and can be seen during an inspection.
SIGMA plate heat exchangers equipped with SIGMATWIN double-wall plates can be opened like standard plate heat exchangers for inspection, or maintenenance purposes. The gaps of the double-wall plate can be revised as well.