The API Heat Transfer Type ES Extended Surface Plate Fin Heat Exchanger is the industry leader for intercooler and aftercooler performance. Its unique patented compact plate fin design provides superior cooling of large air volumes at low pressure drops which means less energy consumption.
Sizes:
20″ to 120″ diameter; 3′ to 35′ length
Shells:
Carbon Steel or 304 Stainless Steel
Tubes:
3/8″ or 5/8″ diameter tubes available Carbon Steel, 304 Stainless Steel, Admiralty, 90/10 copper-nickel. 70/30 copper nickel, or per customer specification.
Fins:
Aluminum, Coated Aluminum, or Copper. Variations in fin spacing from 8 to 20 fins per inch
Flow:
Available in 2 or 4 pass designs as typical, or any even number of passes.
Codes:
ASME, TEMA-C, B and R PED.Chinese CML Korean KFR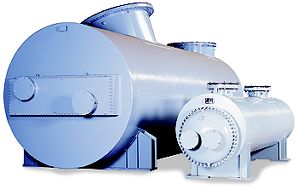 Other benefits include:
Compact package delivers maximum heat transfer in a minimum space.
Tubes are continuously supported over the entire length by the plate fins thus providing a vibration-free design.
Our continuous silicone rubber seals at the top and bottom of the tube bundle prevent any mixing of inlet and outlet gas.
Integrated moisture separation eliminates the need for an external device.
Tubes are easily accessed for inspection and cleaning.
API Heat Transfer Type ES heat exchangers are manufactured in our ISO 9001 certified Buffalo, NY facility. Using advanced computer based thermal and mechanical modeling tools for design and engineering, state-of-the-art manufacturing equipment, and a highly experienced manufacturing team, API ensures that every heat exchanger we build meets and exceeds the level of performance and quality our customers expect.
Typical applications for extended surface heat exchangers include:
Compressor Intercoolers
Compressor Aftercoolers
Air Separation
In addition to our Plate Fin Design, API offers our Type HF Heat Exchanger with High Fin Tubes. The HF offers more tube diameter options, more tube material options, and higher shell-side operating pressures.