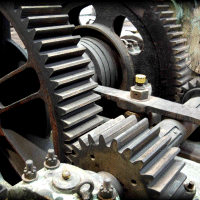 SIGMA plate heat exchangers are used in the most varied applications in plant and machinery construction. Their primary tasks are in the reliable provision of cooling media, such as water, thermal oil and other coolants.
As well as that, our heat exchangers perform the most diverse tasks in the area of heat recovery, in order to operate your machines and systems as efficiently and environmentally compatible as possible.
Typical tasks for SIGMA plate heat exchanger in industrial plants are:
Cooling of engine cooling water
Oil cooling for screw compressors
Oil cooling for steam turbines
Oil cooling for compressor cooling
Central cooler unit e.g. with river or sea water
Cooling of waste water
Heat recovery of waste water
Application example: Underwater granulation
In the manufacture of plastic compounds, so-called underwater granulation processes are used more frequently today. In this case, the hot sealing compound is discharged from the extruder directly into water and granulated. The water absorbs the heat of the compound, where it solidifies. In order to ensure a constant temperature of this water, the water flows through a SIGMA heat exchanger and maintains the required temperature. The SIGMA heat exchanger is connected with the central cooling-water system of the system in this case.