Sustainable and Economical Application under Hygienic Conditions - The energy-efficient and hygienic GEA Hilge TP centrifugal pumps in the GEA Smartpump line are available in a variety of model sizes, optimally configured for different applications.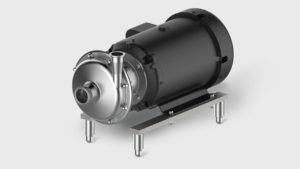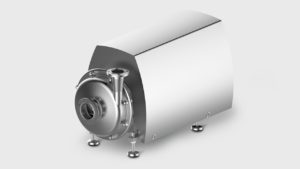 The centrifugal pump GEA Hilge TP is designed for the hygienic pumping of biologically demanding media. Low flow velocities and gentle discharge of media through the spiral housing enables extremely gentle product handling. 11 different pump types are available covering a capacity range up to 210 m³/h and flow heads up to approx. 90 m w.c., fine tuned for each task.
The spiral housing for the GEA Hilge TP series is made of cold-rolled steel. This material has an excellent surface quality, which is essential for optimum cleaning in CIP/SIP processes. The GEA Hilge TP pump series is EHEDG certified. Typical wall thicknesses of 8 mm (TP 1020 6 mm) provide high strength.
Features and Benefits
Applications
The GEA Hilge TP series has been designed for a variety of applications within:
Breweries
Beer
Wort
Yeast
Water
CIP Solutions
Dairy
Milk
Cream
Yoghurt
Whey
Brine
CIP Solutions
Cosmetic
Extracts
Emulsions
Distillates
Application Options GEA Hilge TP
Conveying
Circulation
Pressure boosting
Filling lines
Filling
Emptying
Filtration
Evaporation (GEA Hilge TPE)
Cleaning
Technical Benefits
Operating pressure max. 16 bar
Low NPSH value avoids early cavitation to the pump
Energy-efficient operation thanks to optimized speed control and/or impeller trimming
Constructive Characteristics
Open impeller design optimized for gentle product handling
All parts stainless steel, wetted components made of 1.4404 or 1.4409 (AISI 316L)
Surface roughnesses of Ra ≤ 0,8 µm can be achieved by mechanical treatment of the surface (higher surface qualities on request)
High-efficiency IE3 motors
Special Characteristics
Gentle product handling
Low wear part stock requirement thanks to modular concept
Acceptance test certification 3.1 (optional)
EHEDG certified
Sealings comply to FDA and USP Class VI
Mechanical seal optimized for hygienic applications
Mechanical seal unit can be removed from the front
Flushing unit easy to retrofit
Pump shaft protected by wear sleeve
Only two mechanical seal sizes for the entire pump series
Seal face material options: carbon/silicon carbide (standard), silicon carbide/silicon carbide
Various elastomers with FDA approval (EPDM, FKM)
Sealing of GEA Hilge TP centrifugal pumps according to EHEDG standards
The elastomer sealing is executed according to EHEDG standards. The special groove enables the seal is kept reliably in place at all times. The shape of the groove is based on FEM analyses. The metallic stop allows a defined compression of the seal, ensuring gap-free sealing against the product chamber without dead corners.
GEA Hilge TP
50 Hz
60 Hz
Flow
220 m³/h
240 m³/h
Head
90 m
130 m
Media temperature
140 °C
Operating pressure
16 bar