Revolutionary Design for Viscous Media - The GEA Hilge NOVALOBE range in the GEA Varipump line is specifically designed for viscous media – and for applications where gentle pumping or dosing is required.
The GEA Hilge NOVALOBE pump range meets the highest hygienic requirements and is EHEDG certified.
Robust Construction
Through the pump's robust construction the shaft overhang and clearance in the pump have been minimized. The pump's compact design and the rigid shaft geometry reduce the risk of galling to an absolute minimum. The GEA Hilge NOVALOBE range has thus been designed for a differential pressure of up to 16 bar.
Unique Rotor Mounting Design
Precision-ground cylinders for the location and accurate connection of rotors and shafts minimize play and reduce vibrations as well as noise.
Flexible Rotor Profiles
The rotor housing can be equipped with various rotor profiles. This makes it possible to adapt the GEA Hilge NOVALOBE pump to specific applications for an optimum performance in different conditions.
Shaft Seals
To accommodate different applications and media, GEA Hilge NOVALOBE pumps are available with different seal types:
Single mechanical seal
Single-flush mechanical seal
Double mechanical seal
O-ring seal
The mechanical seals are single inboard seals placed in the optimum position in the pump to ensure outstanding lubrication and cooling. They also comply with the hygienic design criteria in CIP and SIP processes.
Seal face materials are carefully selected to suit the specific media. Standard materials are carbon/silicon carbide with EPDM elastomers (FDA-compliant).
Connections
Threads to DIN 11851 (standard)
Flanges to DIN EN 1092-1 / DIN 2642 PN 16
Sterile threads to DIN 11864-1 / DIN 11853-1
Sterile flanges to DIN 11864-2 / DIN 11853-2
Other connections available upon request. This includes SMS, RJT, clamp connections to DIN, ISO, Tri-Clamp etc., and special sterile threads and flanges
Rectangular inlet for improved inlet conditions
GEA Hilge NOVALOBE Variants
With bare shafts
With geared motor and coupling mounted on stainless steel base frame
With stainless steel motor shroud
Mounted on trolley
With horizontal or vertical ports
A Variety of Applications
The GEA Hilge NOVALOBE pumps offer extremely reliable operation and gentle product handling. The hygienic design and use of pore-free materials make the pumps suitable for a variety of applications, such as:
Food & Beverage
Dairy
Food processing plants
Soft drink applications
Confectionary and sugar
Meat industry
Brewery
Pharmaceutical, Biotechnology and Personal Care
Fermentation processes
Vaccine
Blood products
Enzyme production
Cosmetics
Personal care
Other Industrial Applications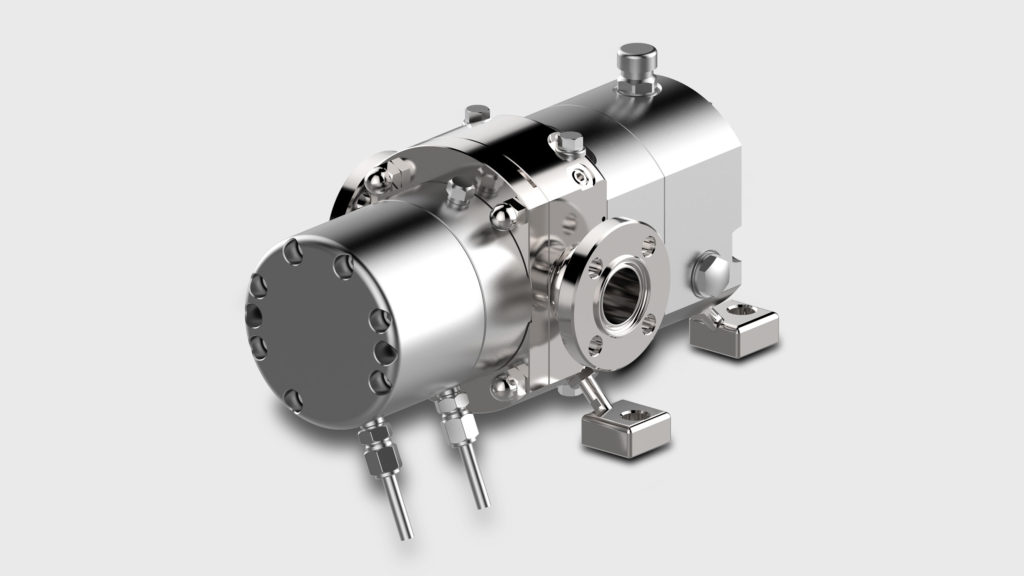 Pressure Relief Valve
Positive displacement rotary lobe pumps will continue to build up pressure when operating against a closed valve. With this in mind, it is very important to add in a safety device to prevent accidental over-pressurization and subsequent damage to the pump or system. GEA Hilge NOVALOBE pumps can be equipped with an integrated pressure relief valve to avoid these damages.
Thermal Jackets
Thermal jackets are available for all pump sizes. This option makes it possible to heat the pump chamber and to ensure that products which solidify at ambient temperature are kept liquid. Alternatively, the thermal jackets can be used to cool the pumped media where necessary. Thermal jackets for GEA Hilge NOVALOBE are available for the rotor case and the front cover. Due to the integrated design in the pump, it is a highly efficient system without any compromise in the hygienic design and cleanability.
Aseptic Front Cover
Combining the benefits of a circulating barrier fluid and double mechanical seals, the aseptic front cover and the double mechanical seal greatly increase safety – ideal where high containment requirements apply.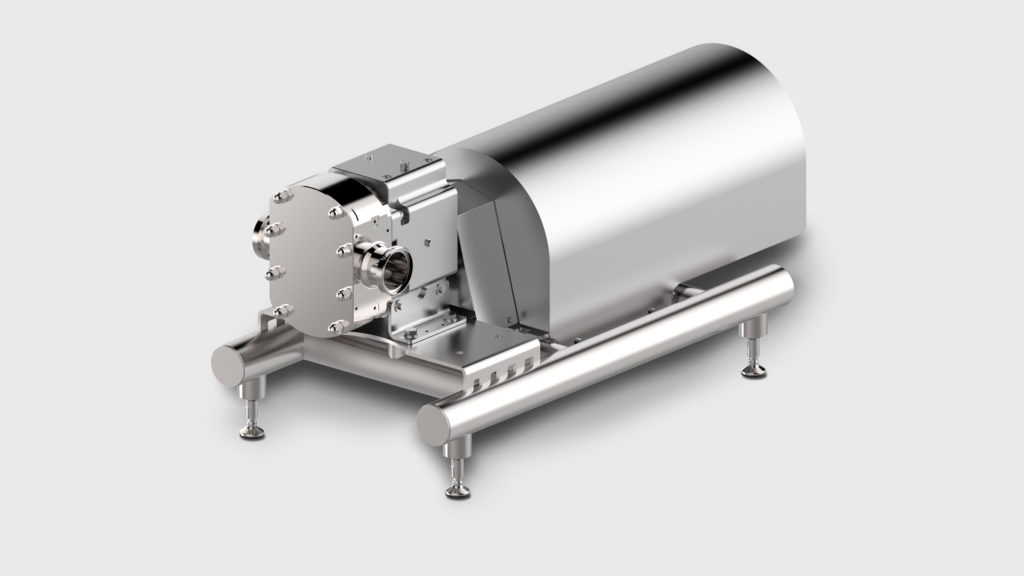 Pump model
NOVALOBE 10/0.06
NOVALOBE 20/0.12
NOVALOBE 30/0.33
NOVALOBE 40/0.65
NOVALOBE 50/1.29
NOVALOBE 60/2.1
Displacement
(l/rev)
0.06
0.12
0.33
0.65
1.29
2.1
Differential
pressure (bar)
16
16
16
16
16
10
Max. speed (rpm)
1,500
1,500
1,250
1,000
800
500
Max. liquid
temperature
up to 95 °C, 150 °C (SIP)
up to 95 °C, 150 °C (SIP)
up to 95 °C, 150 °C (SIP)
up to 95 °C, 150 °C (SIP)
up to 95 °C, 150 °C (SIP)
up to 95 °C, 150 °C (SIP)
Rotor design
uni-wing
bi-wing multilobe
uni-wing
bi-wing multilobe
uni-wing
bi-wing multilobe
uni-wing
bi-wing multilobe
uni-wing
bi-wing multilobe
bi-wing multilobe
Surface
roughness Ra (μm)
≤ 0.8 / ≤ 0.41
≤ 0.8 / ≤ 0.41
≤ 0.8 / ≤ 0.41
≤ 0.8 / ≤ 0.41
≤ 0.8 / ≤ 0.41
≤ 0.8 / ≤ 0.41
Connection size (mm)
25
40
50
65
80
100
Max. particle size (mm)
(non-abrasive)
12
16
23
29
35
41
Max. viscosity (mPas)
1,000,000
1,000,000
1,000,000
1,000,000
1,000,000
1,000,000